Future of Canada and the World Webinars
The world is changing in profound ways. To help you better understand key trends driving this change, the Foresight Lab has assembled a series of leading global thinkers who will provide insights and implications for the future of business, Canada, and the world at large.
If you're interested in taking these learnings and applying them to your organization, take a look at some our futures thinking and change-readiness-focused programs in partnership with DeGroote Executive Education.
---
PAST EVENTS:
2030: How Today's Biggest Trends Will Collide and Reshape Everything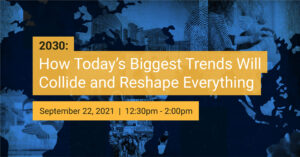 By 2030, there will be more grandparents than grandchildren on the planet. The middle class in Asia and sub-Saharan Africa will outnumber the middle class in the US and Europe combined. The global economy will be driven by the non-Western consumer for the first time in modern history. And there will be more global wealth held in the hands of women than men. In this webinar, Mauro Guillen will explore how these and other major global trends will intersect and reshape our societies, and how we need to develop a peripheral vision to see how these merging forces will change our lives in the decades ahead.
Mauro Guillen is the Dean of Cambridge Judge Business School. Prior to joining Cambridge Judge Business School in 2021, Professor Guillén held various positions at The Wharton School, University of Pennsylvania, where he won numerous teaching awards and also served as Director of the Lauder Institute between 2007 and 2019. He is also a Trustee of the Royal Foundation of Spain and serves on several advisory groups at the World Economic Forum. He holds a Ph.D. in Sociology from Yale University.
You can access the recording for this event here.
---
The Future of Work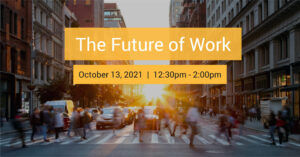 The future of work is one of the most hotly discussed issues in any office, boardroom, government ministry or home dining table. In this webinar, Lynda Gratton, one of the world's leading authorities on this topic, will share her insights about the changing nature of work and the implications it will have on people, organizations and society. She will also share strategies for how organizations can become more future-ready and how leaders can become more resilient in a volatile and unpredictable world.
Lynda Gratton is a Professor of Management Practice at the London Business School. In addition to receiving several teaching awards from institutions around the world as well as being a prolific award-winning author, she regularly appears in the highly acclaimed Thinkers 50 annual ranking. As a Fellow of the World Economic Forum, she has chaired the WEF Council on Leadership and was recently appointed as co-chair for the WEF Global Future Council on Work, Wages and Job Creation. She also previously served on former Japanese Prime Minister Shinzo Abe's "Council for designing the 100-year-life society". Professor Gratton holds and BA and Ph.D. from the University of Liverpool.
You can access the recording for this event here.
---
The Future of Canadian Competitiveness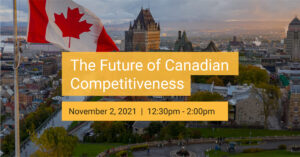 How does Canada's competitiveness stack up against its global peers and potential challengers? Does Canada have the skills, assets and institutions to compete in the global market, near-term and long-term? In a world that is seeing the economic centre of gravity moving to Asia, does Canada have what it needs to ensure that the prosperity the nation has enjoyed in the past will be sustained in the decades ahead? These are just some of the questions we will explore with Arturo Bris from IMD, based in Lausanne, Switzerland.
Arturo Bris is a Professor of Finance and Director of IMD's World Competitiveness Centre. He specializes in working with senior executives from a wide range of global clients on issues related to competitiveness, finance and governance. His prolific research output has been published in leading journals, making him one of the top one hundred most-read finance academics in the world. His latest book,  The Right Place: How National Competitiveness Makes or Breaks Companies, explains why firms succeed in one country and fail in another and suggests potential initiatives that governments can take to help the private sector create jobs and increase overall prosperity.
Professor Bris holds a Ph.D. in Management from INSEAD.
You can access the recording for this event here.
---
The Future of the Intangibles Economy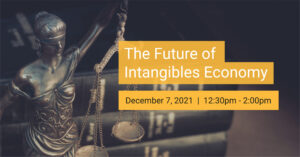 In today's global economy, intangible assets are more salient than tangible. This is particularly true in the USA, although China is not far behind. New business models and old forms of intellectual property (patents, trade secrets etc) are becoming very important for value capture, especially for independent inventors, entrepreneurs, and small to mid-sized firms. Meanwhile, the IP system is under attack, often by economists and big tech, the former because they don't understand it well. Big tech is often schizophrenic and, in the future, will need to be more consistent in support of the system. Geopolitical dimensions will also become more salient as China and the USA have become strategic competitors.
David Teece is a Professor in Global Business and the Director of the Tusher Initiative for the Management of Intellectual Capital at the Haas School of Business at the University of California, Berkeley. He is a leading global authority on matters related to industrial organization, technological change, and innovation, particularly as it relates to antitrust and competition policy and intellectual property. He has a PhD in economics from the University of Pennsylvania and has held teaching and research positions at Stanford University and Oxford University. He also holds eight honorary doctorates and was named a 2021 Citation Laureate in economics for his pioneering "Nobel class" research by the Institute for Scientific Information.
You can access the recording for this event here.